February 28th, 2008 | Published in general, infrastructure, policy
I've been sitting on this post for a few days, but with the recent transportation bill override (woot!), it's worth another look.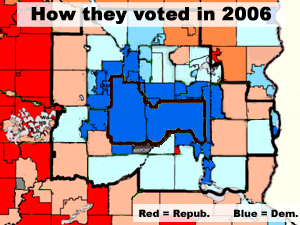 One by-product of not biking to work every day is that i've had a lot more radio time lately in the car. There was an interesting story on MPR this morning about a recent political poll showing the radical differences between the central city and suburbs. The thumbnail version is that the closer you live to downtown, the more liberal you probably are. Within the city proper, 77% of the residents identify as democrats. Get to the inner ring of suburbs, and just over half of the residents call themselves democrats, and once you're in the exurbs, there are 10% more republicans.
This seems somewhat expected, given typical urban statistics, but it still makes for an interesting map. According to the radio story and the people interviewed, the new republican stronghold in the state is a ring of suburbs that are 95% white, affluent, and somewhat isolationist in nature. They're people who want their own space, and can afford both larger properties and the additional transportation cost of living away from their fellow man. This from Rockford, MN mayor Mike Beyer: "You're not part of an apartment complex, which is a communal area. Communal to me is social, and social goes to socialism. But here, it's your space, your time, your business, and that's generally conservative people."
Yes, all of us in the city live in apartments are are socialists. We have to sign papers and carry cards.
Those values that are apparently driving the rich white conservatives out of town are the opposite of what i look for in where to live. I like knowing my neighbors and shopping in places where they recognize me and having the option more often than not to walk or bike for an errand because i only need to go a few blocks. I love realizing that i haven't started my car in over a week, and that my kids ask to walk to the store for a snack or to bike to their friend's house. There's security in knowing that my neighbors and friends are looking out for each other. I have my house and yard and our own playset, but those features are no more important to me than my front porch, or the alley.
The political polarization is interesting in light of the fight over the recent transportation bill here. It was passed over the governor's veto, and that's a good thing. The current federal administration, seems to think that they can continue to cut taxes while spending gobs of money on things like an overseas war. Our governor, likewise, seems to believe that we can maintain even our piss-poor standard of roads in the state let alone new bridge construction and other infrastructure maintenance without any new money coming in. This despite a $6 BILLION shortfall claimed by the DOT for projects scheduled in the next few years. Who's paying for this? Our kids are. Yes, it's all on borrowed money, so Chinese investors own us now. Our jobs are being shipped overseas, and soon we'll all be working the counter saying, "Would you like shrimp chips with that?".
It's also interesting because more specifically (and speaking generally) the very conservatives who live in the outer suburbs and do the majority of the driving (living further from work and having no public transportation options) are the ones who refuse to pay for anything while still demanding more road capacity. The only thing they're actually conserving is their own wallet. Residents in the city get grief for wanting to build things like light rail as a way to reduce congestion, but we're generally willing to help pay for it. This is conservation on a much larger scale, and it takes bigger thinking than the view from the steering wheel.
This is one reason i'd rather ride my bike.